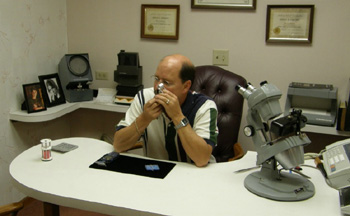 Staats Jewelers has been in business since 1955. It all began after World War II, when Merle Staats attended the Kansas City School of Watch Making.
At the time, Merle was also employed by Wilkins Jewelers in Liberal, Ks. He purchased the business in 1955 and in 1993, sold it to his son, Brent.
Under Brent's management, Staats Jewelers turned its focus to diamonds: loose diamonds, engagement sets, and diamond jewelry. Currently, Brent owns and operates the store, continuing in the footsteps of his father to uphold the fine tradition of Staats Jewelers.